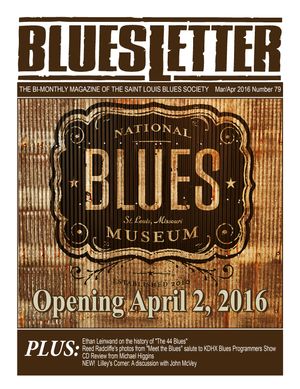 The National Blues Museum opening April 2, 2016!
Chris Holmes gives us his thoughtful words on the NBM opening in St. Louis with photos from Steve Truesdell
Ethan Leinwand talks on the history of "The 44 Blues"
Reed Radcliffe shares photos from "Meet the Blues" salute to the KDHX Blues Programmers show
CD review from Michael Higgins
NEW column from Lilley Halloran, daughter of St. Louis guitarist Tommy Halloran. She interviews John McVey this month.