Statement from the St. Louis Blues Society's Board of Directors:
As an organization dedicated to the preservation and perpetuation of St. Louis Blues Music, whose origins come singularly from Black men and women's experience in America, we stand firmly on the side of justice for every Black and Brown person who has been harassed and/or killed at the hands of the very people who have sworn an oath to protect and serve them. We will always stand in solidarity with peaceful protesters around the world to demand justice and immediate change to the institutional racism that plagues this country. We encourage the Blues community to support the movement. The very music you love was birthed by the suffering of Black people under the weight of systematic racism in America. 
If you love the music, if you love the people who create it, speak out and let your voice be heard. Silence is compliance.
NOW AVAILABLE
Fourth in the Mission Fund Print Series 
Marsha Evans and Jimmy Hinds
 PLEASE SUPPORT THE MISSION FUND TODAY!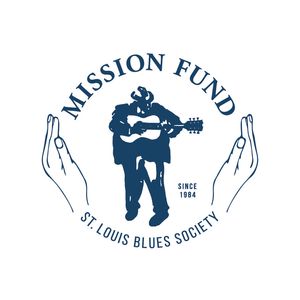 The St. Louis Blues Society is dedicated to preserving and perpetuating blues music in and from St. Louis, while fostering its growth and appreciation. The St. Louis Blues Society provides blues artists the opportunity for public performance and individual improvement in their field, all for the educational and artistic benefit of the general public.